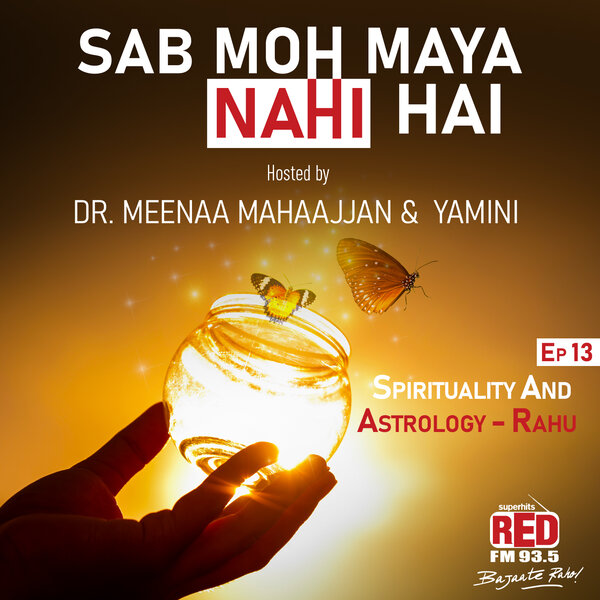 Ep-13 Spirituality and Astrology – Rahu
Rahu is not exactly a planet but can cast a shadow over the Sun and the Moon – that's how the eclipse is formed. Even tho though Rahu holds quite a notorious reputation, there are some trains of Rahu which make this north lunar node a King of Kaliyug! I am sure you are wondering why so? To satiate your curiosity, we brought together tales of Rahu with its traits too. If you identify with being an unpredictable being with sudden shift of events in life which leaves you flabbergasted, then this episode will certainly bring you some answers about your own life. Take a listen and do not forget to share and comment.
Sab Moh Maya Nahi Hai
'Sab Moh Maya Nahi Hai' is a unique podcast series on spirituality hosted by Yamini and Dr. Meenaa Mahaajjan who is a world-renowned spiritual teacher, holistic wellness expert, TEDx speaker, keynote speaker, p ... hilanthropist, and a corporate wellness coach She has dedicated more than 26 years of her life to spiritual texts and translating them into robust leadership programs and wellness sessions. She believes that a human being has the power to transform the world into the most productive place but has not yet realized the potential that lies dormant. Her approach is integrated and scientific, and she captivates the audience with her fantastic ability to convey the most complicated things in a simple manner Her research on subjects like metaphysical science, quantum mechanics, brain plasticity, psychoneuroimmunology has helped to prove the relation of psychology on the physiology of our body hence the capacity to reverse chronic illnesses. She is the recipient of many national and international awards and accolades including the British parliament. She is an international speaker on topics like Indian spirituality and meditation. It is a podcast to help millennials understand spirituality and incorporate it in their daily lives; and all aspects that affect their growth and development ranging from career to love life, parenting, ambitions and much more!
Related Episodes