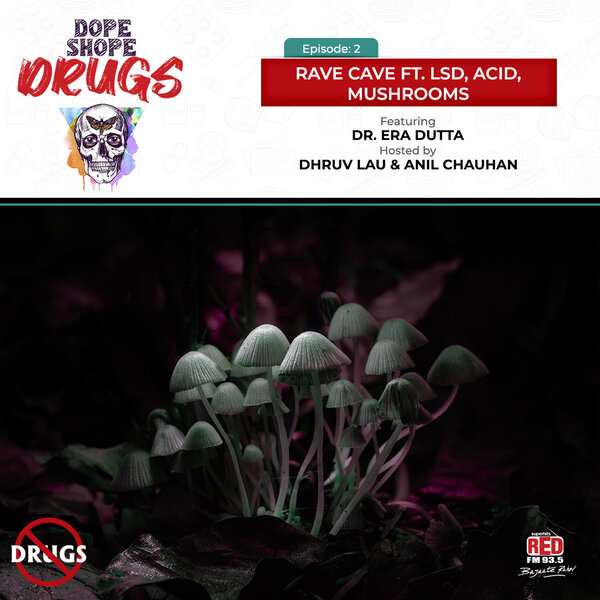 Ep 2-Rave Cave ft. LSD, Acid, Mushrooms
A rave party invitation is sent out and we hear three youngsters exploring the party where stamps laced with ACID are ser ved on arrival. Is it a party? Or the beginning of a bad trip. This episode of Dope Shope Drugs Season 1 introduces us to a world of illicit drugs that can make the consumer see things that they cannot even imagine. Even a common vegetable is a name for a drug that gives you a high for days and might keep you low for the rest of your life. Catch the latest podcasts on the Red FM Podcast Network. Featuring: Doctor Era Dutta, MD (Psychiatry, DNB (Psychiatry), MBBS Website: http://dreradutta.com/ LinkedIn: https://in.linkedin.com/in/dr-era-dutta-md-bb6a8a77 Instagram: https://www.instagram.com/mindwellness.dr.era/ Facebook: https://www.facebook.com/Dr.EraDutta/ Hosted by: Dhruv Lau & Anil Chauhan Sound Design: Anil Chauhan & Aayush Mehra Script & Creative Direction: Dhruv Lau Send your feedback and suggestion to: https://www.instagram.com/redfmpodcasts/ Or mail us on podcast@redfm.in DISCLAIMER We do not promote the usage of drugs. Voices and stories used have been dramatised for audience entertainment and the views expressed in this podcast are people's individual opinion and ideas. Listener's discretion is advised.
Dope Shope Drugs
Weed, Cocaine, Hasheesh, Heroine, and more. You have heard the name, but have you just heard the name? Red FM Podcast Network presents Dope Shope Drugs. Dr. Era Dutta along with the hosts Anil Chauhan and Dhruv ... v Lau go through various situations where people use drugs, be it a club or a rave party or a jamming session. Questions which sound stupid to ask, and questions that literally cross the line of decent behavior. All questions answered while keeping things real, fun and entertaining. Plug it into your ears or play it out loud. Let's get the talks rolling.
Related Episodes