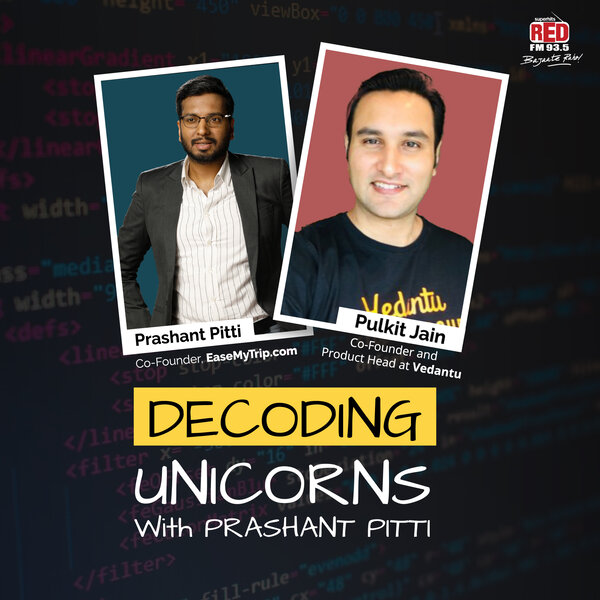 EP-13 Pulkit Jain Co Founder and Product Head at Vedantu
In the next episode of Decoding Unicorns, Host Prashant Pitti is joined by Co-Founder of Vedantu, Pulkit Jain. Vedantu is a knowledge network where any student can tap into a teacher directly and learning can happen in a personalized way, anytime-anywhere. Presently, Vedantu is one of the fastest growing education company with over 35 million users' accessing Vedantu through its app and web for free every month. Tune into this podcast where Pulkit discusses the numerous challenges that contributed to Vedantu's success.
Decoding Unicorns with Prashant Pitti
Are you planning your start-up? What will it take to make it big? How will you make it to the Unicorn Club? Know it all. Prashant Pitti, Co-founder of EaseMyTrip will be talking to other entrepreneurs whose bus ... inesses achieved the Unicorn status. Entrepreneurs share their stories, trade secrets, and the recipe for making it big. Tune in to the podcast – Decoding Unicorns on the Red FM Podcast Network and listen to some of the most influential minds talk about their success, failure, and lessons learned in the process. Prashant Pitti is co-founder of EaseMyTrip. He has a brilliant aptitude for various sectors of commerce and is identified for his exceptional marketing skills and creative ideas. Mr. Prashant is a B.Tech from IIT Madras. Prashant Pitti has 3 years of working experience in US and he has also contributed as assistant vice president in Risk Department of HSBC, Chicago. Under his surveillance, EaseMyTrip.com has created a niche for itself. Prashant firmly believes that technology, qualified manpower and advanced management team can lead any company towards peak of success.
Related Episodes