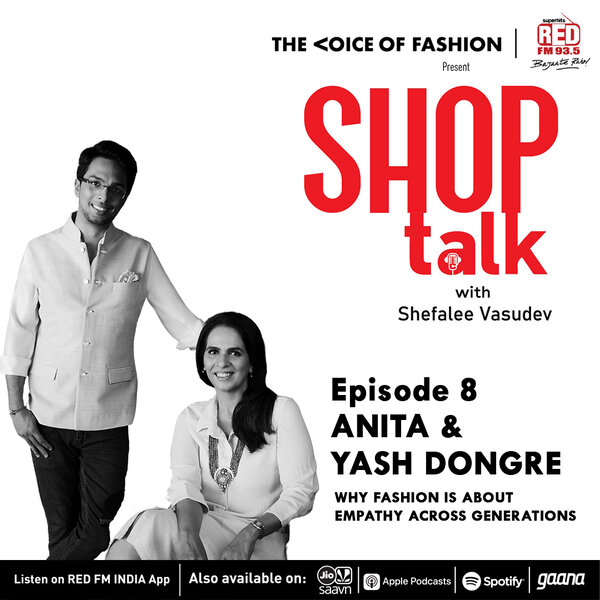 Ep-8 Anita and Yash Dongre: Why Fashion is About Empathy Across Generations
Shefalee Vasudev speaks with mother-son duo, Anita and Yash Dongre, who are at the helm of one of India's most successful ul fashion businesses, The House of Anita Dongre. Talking points include the 25 years old company's family to firm transition, its commercial success rooted in empathy and a sharp reading of customer preferences, spread across a robust portfolio of daily wear to bridal labels. Yash Dongre, credited for taking the brand to a global audience as its business head speaks about building store experience and customer connection, besides the motivation behind joining his family business. The talk also includes notes from an Anita Dongre bride, who joins the episode to share her buying experience.
Shop Talk
Shop Talk on RED FM is India's first fashion podcast series hosted by Shefalee Vasudev, editor of The Voice of Fashion and author of Powder Room: The Untold Story of Indian Fashion. Revealing and Concealing, ... g, Undressing Fashion, describes Shop Talk's incisive and exciting conversations around meaning, memory and material of fashion. Shefalee talks to some of India's leading designers, crafts practitioners, retailers, creative heads and stylists to uncover fashion's pulsating significance in social and personal lives; how it influences the zeitgeist and narrates an era and its people. Including but beyond trends and clothes, Shop Talk is an intersectional space, it is about glamour and style, about people and innovation, sustainability initiatives, India's artisanal legacies. A contemporary, candid, curious set of conversations, it drapes the idea of India with fashion as prism.
Related Episodes