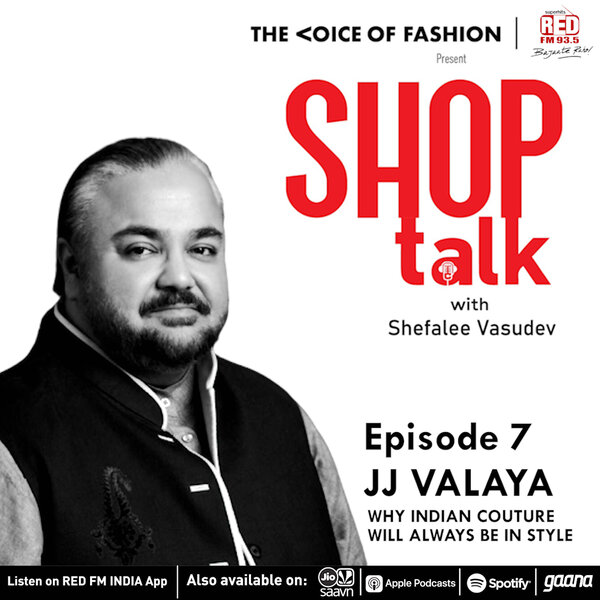 Ep-7 JJ Valaya: Why Indian Couture Will Always Be In Style
JJ Valaya, one of India's senior most couturiers is known to celebrate maximalism in his opulent and detailed lehngas and nd sherwanis, while his journey of over three decades mirrors the growth and evolution of Indian fashion itself. In the latest episode of Shop Talk, Valaya offers insight on his design process that includes the layering of intricately detailed embroideries, as he explains that 'timelessness' will always be an innate part of his craft. The couturier further argues that though the pandemic may have shrunk the Indian wedding market, the sartorial extravaganza will remain intact.
Shop Talk
Shop Talk on RED FM is India's first fashion podcast series hosted by Shefalee Vasudev, editor of The Voice of Fashion and author of Powder Room: The Untold Story of Indian Fashion. Revealing and Concealing, ... g, Undressing Fashion, describes Shop Talk's incisive and exciting conversations around meaning, memory and material of fashion. Shefalee talks to some of India's leading designers, crafts practitioners, retailers, creative heads and stylists to uncover fashion's pulsating significance in social and personal lives; how it influences the zeitgeist and narrates an era and its people. Including but beyond trends and clothes, Shop Talk is an intersectional space, it is about glamour and style, about people and innovation, sustainability initiatives, India's artisanal legacies. A contemporary, candid, curious set of conversations, it drapes the idea of India with fashion as prism.
Related Episodes