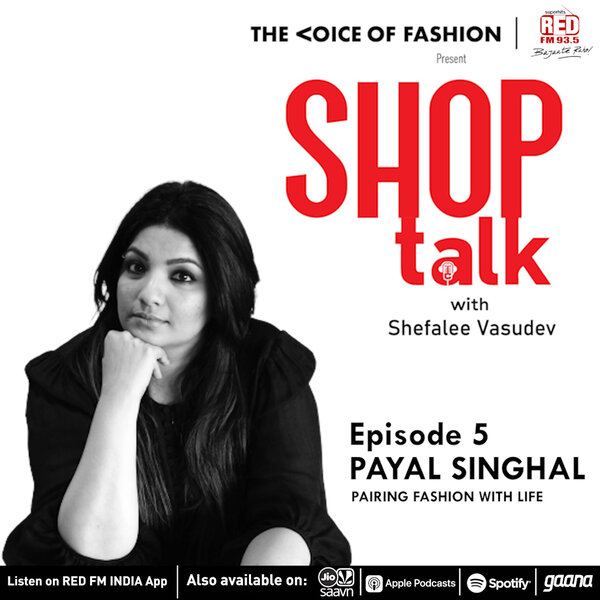 Ep-5 Payal Singhal: Pairing Fashion with Life
Mumbai-based designer Payal Singhal's occasion and bridalwear creations accentuated through prints and bohemian details a are functional and fun in equal parts. In the fifth episode of Shop Talk, Singhal talks about the evolution of her more than two decades old eponymous brand, its customer-led innovations and socially relevant messaging and product lines. In a layered conversation with Shefalee Vasudev, she opens up about media projecting body positivity while fashion consumers continue to obsess over body size and how the Indian fashion industry can become more inclusive. Creative director of multi-brand retailer Aza, Aparna Badlani, also a customer of Singhal's designs, joins in and offers advice on styling versatile outfits for a global consumer.
Shop Talk
Shop Talk on RED FM is India's first fashion podcast series hosted by Shefalee Vasudev, editor of The Voice of Fashion and author of Powder Room: The Untold Story of Indian Fashion. Revealing and Concealing, ... g, Undressing Fashion, describes Shop Talk's incisive and exciting conversations around meaning, memory and material of fashion. Shefalee talks to some of India's leading designers, crafts practitioners, retailers, creative heads and stylists to uncover fashion's pulsating significance in social and personal lives; how it influences the zeitgeist and narrates an era and its people. Including but beyond trends and clothes, Shop Talk is an intersectional space, it is about glamour and style, about people and innovation, sustainability initiatives, India's artisanal legacies. A contemporary, candid, curious set of conversations, it drapes the idea of India with fashion as prism.
Related Episodes