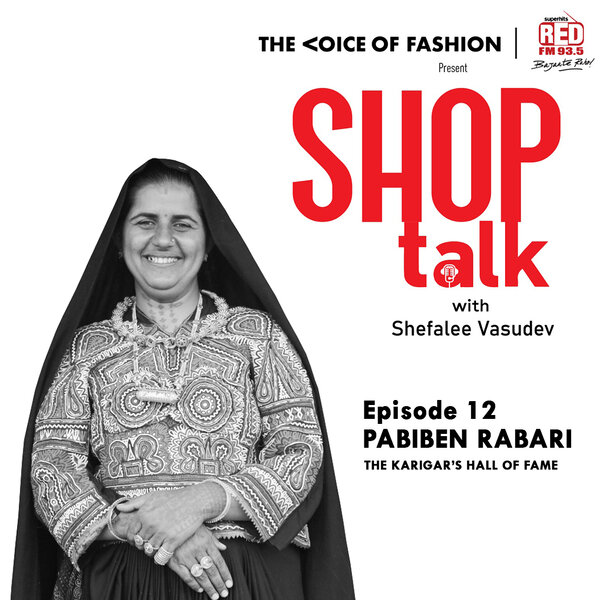 Ep-12 Pabiben Rabari and the Karigar's Hall of Fame
This episode of Shop Talk features a conversation with the 38 year old Pabiben Rabari, an embroidery artisan and crafts e ntrepreneur from Bhadroi village of Kutch, Gujarat. From embroidering since she was seven to make ends meet, to sharing the stage with actor Amitabh Bachchan on Kaun Banega Crorepati, and now becoming the face of an award-winning crafts gift box—Pabiben has come a long way. In this episode, she offers her take on collective growth, on product innovation and the importance of recognition in the life of an artisan. Kaarigar Clinic's Nilesh Priyadarshi and AIACA's Anjali Bhatnagar join in to unravel the case study of a unique crafts curation 'The Local Gift Box', also the winner of AIACA's The Most Creative Marketing Strategy Award this year.
Shop Talk
Shop Talk on RED FM is India's first fashion podcast series hosted by Shefalee Vasudev, editor of The Voice of Fashion and author of Powder Room: The Untold Story of Indian Fashion. Revealing and Concealing, ... g, Undressing Fashion, describes Shop Talk's incisive and exciting conversations around meaning, memory and material of fashion. Shefalee talks to some of India's leading designers, crafts practitioners, retailers, creative heads and stylists to uncover fashion's pulsating significance in social and personal lives; how it influences the zeitgeist and narrates an era and its people. Including but beyond trends and clothes, Shop Talk is an intersectional space, it is about glamour and style, about people and innovation, sustainability initiatives, India's artisanal legacies. A contemporary, candid, curious set of conversations, it drapes the idea of India with fashion as prism.
Related Episodes