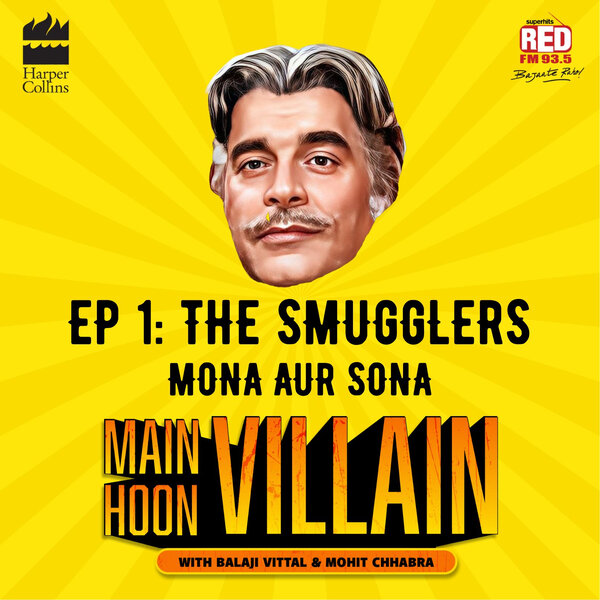 The Smugglers - Mona Aur Sona
In the 1st episode of Main Hoon Villain, your fatal heart might be robbed by the dangerous smuggler villains of the 70's & 80's. With automatic revolving doors, bone-crushing traps, gas chambers, acid tanks, missiles & vile smirks, these villains have been scaring the living daylights of many. From the gold mafia smuggling the famed 'Sone ke biscuits' to the dons & the glamorous moles, from the bhais of aamchi mumbai taking suparis to the bahubalis of the hinterland flexing their muscles, this episode traces the evolution of villany in bollywood reflecting the changes in the Indian society. Join your cinephile host Mohit Chhabra & National award winning author Balaji Vittal in investigating the menacing persona of our yesteryear baddies that we can't seem to get enough of, even today!
Main Hoon Villain
Who would Thakur be without Gabbar? Mr. India without Mogambo?  There would be no plot without a conflict between a good hero and an equally good villain. Despite our admiration of the hero, a part of us can ... n't help but be under the spell of the villain's sinful appeal. Is it the adrenaline rush and the chance to explore our darker sides that cure our appetite for curiosity, after which we can return to our lives with no prison sentence? Red FM Podcasts & Harper Collins presents 'Main Hoon Villain' hosted by cinephile Mohit Chhabra alongside the National Award Winning author of the book 'Pure Evil - The Bad Men of Bollywood' - Balaji Vittal; the duo will navigate one question that often comes to mind: is there even a hero without a villain? The misdeeds of the gangster, the sly relative, the corrupt policeman, and the psychopathic killer, get ready to indulge in all things villainy. After all, they are scary and mean but they are so good at being bad. Stay tuned to celebrate the season of villains!
Related Episodes