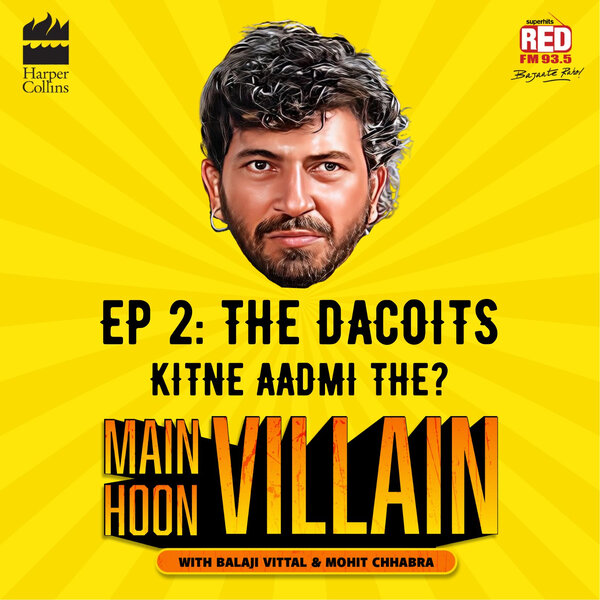 The Dacoits - Kitne Aadmi The?
In the 2nd episode of 'Main Hoon Villian' get ready to go on a ride through the Chambal ghati & its legendary Dacoits & D aku haseenas! From Gabbar Singh's 'Kitne Aadmi The?' being echoed by millions since the day the movie was released to Feroz Khan discarding his leather jackets & bikers accessories to pull off the role of a Daku in 'Khote Sikkay' on a horseback, offcourse. Even Zeenat Aman couldn't resist taking on the role of Daku Haseena! Among the notorious dacoits, some earned cult status and almost every Bollywood star dipped their toes into 'Daku-dom'. Yet, somewhere in the 1980s, this Bollywood breed seemed to fade from the spotlight! So join your cinephile host Mohit Chhabra & author Balaji Vittal in uncovering the era of flamboyant dacoits, fugitive outlaws, and unlikely Baaghis who could make your kid fright with just mentioning the name!
Main Hoon Villain
Who would Thakur be without Gabbar? Mr. India without Mogambo?  There would be no plot without a conflict between a good hero and an equally good villain. Despite our admiration of the hero, a part of us can ... n't help but be under the spell of the villain's sinful appeal. Is it the adrenaline rush and the chance to explore our darker sides that cure our appetite for curiosity, after which we can return to our lives with no prison sentence? Red FM Podcasts & Harper Collins presents 'Main Hoon Villain' hosted by cinephile Mohit Chhabra alongside the National Award Winning author of the book 'Pure Evil - The Bad Men of Bollywood' - Balaji Vittal; the duo will navigate one question that often comes to mind: is there even a hero without a villain? The misdeeds of the gangster, the sly relative, the corrupt policeman, and the psychopathic killer, get ready to indulge in all things villainy. After all, they are scary and mean but they are so good at being bad. Stay tuned to celebrate the season of villains!
Related Episodes